The Benefits You Should Know
---
What we fuel our body with DAILY makes significant impacts to our health. Wellness experts have linked gut health to depression, inflammation & well-being.

" what you eat directly affects the structure and function of your brain." - Harvard Health
Feel "bloated" or more specifically needing to run to the bathroom...?

Your body is most likely reacting to an imbalance or allergy in your diet. This was everyday life for us.
"Normal" = we lived with IBS, Inflammation, Pain, Signs of Depression. After years of battling with symptoms it was necessary to make changes in our lifestyle & diet, we needed to find balance.
We began to incorporate a plant based diet. These nutrients were providing benefits a traditional diet simply wasn't. For us, there is something special about eating ingredients fresh from the farm, but receiving the long term benefits of probiotics & digestive enzymes began to provide a positive impact to our digestive health. More importantly we noticed It changed how we felt!



Our Answer:  Give your body an Organic Plant Based Diet.

Enso Superfoods were designed to include specific natural ingredients, probiotic & digestive enzymes that assist your stomach & provide healthy plant based calories.
Below you will find the ingredients and studies that help support our findings & our reason to be here.

Our Mission:  Help others achieve better health & live a more balanced. life.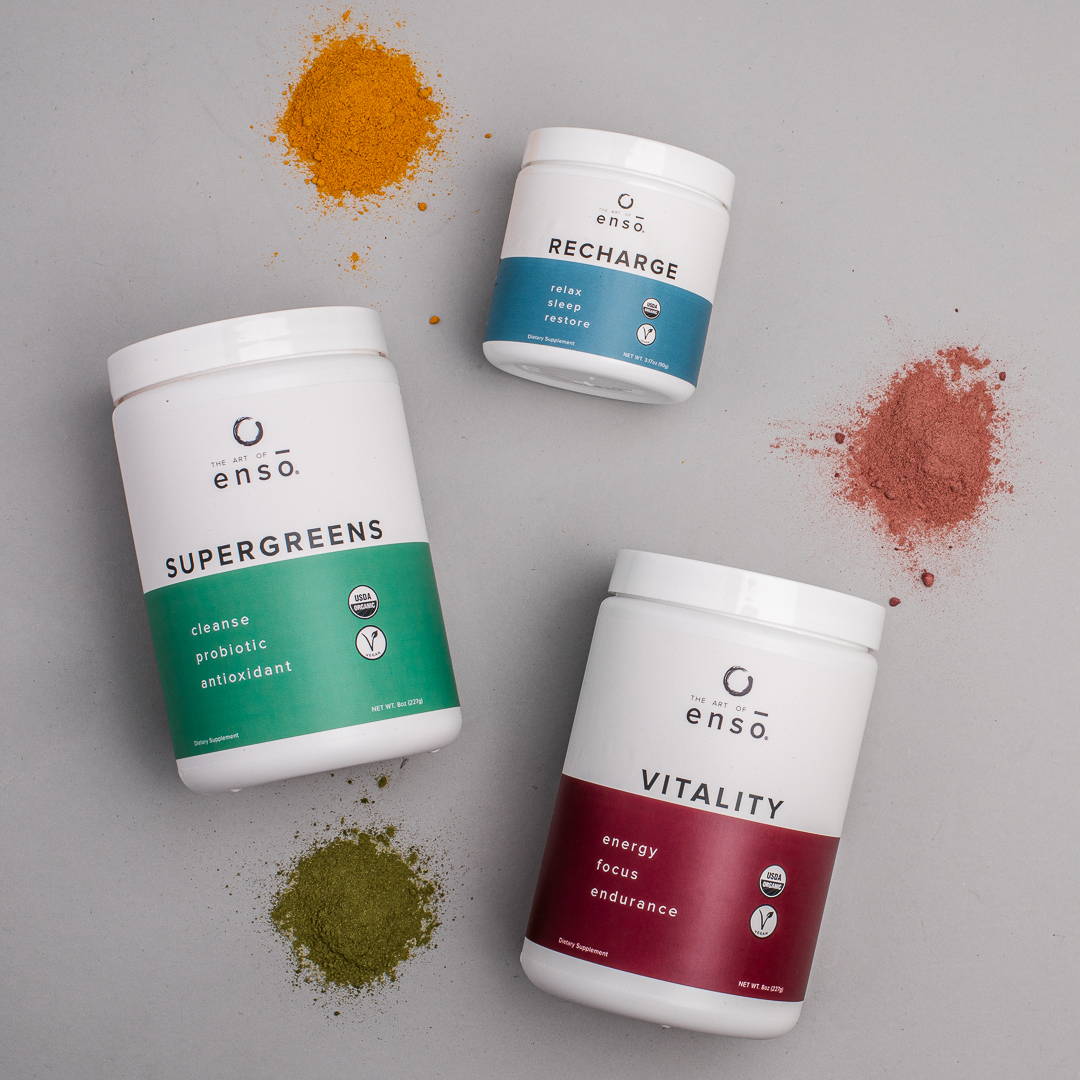 Support Gut Health
with these Organic Ingredients





---
A message from Harvard Health

"Put simply, what you eat directly affects the structure and function of your brain and, ultimately, your mood. Like an expensive car, your brain functions best when it gets only premium fuel. Eating high-quality foods that contain lots of vitamins, minerals, and antioxidants nourishes the brain and protects it from oxidative stress."
Source:
*Harvard Health
Studies in the past two decades have demonstrated links between gut health and the immune system, mood, mental health, endocrine disorders, skin conditions, and cancer.
Source:
-HEALTHLINE


---
Digestive Enzymes & Probiotics

Probiotics with digestive enzymes have been used to prevent bowel symptoms (Such as gas bloating, abdominal discomfort) and to treat lactose intolerance.
Source:
Web MD

---
The Importance Of Gut Health
" Ive been told to trust my gut, follow my instincts and do the right thing. It wasn't until I needed to make changes that I realized how I was suppose to feel. I shouldn't be feeling anxious, tired and unhappy. I needed to find new direction.
What made sense, look within.
What am I fueling my body with?

How can I balance my intake?

How can I live with purpose?
Our gut is our second brain! Similar to your brain, what we fuel our body with impacts how we feel, communicate & how we ultimately go through life. If you struggle with certain conditions and not providing your body with the proper fuel, I'd be concerned with seeing a long term change. These are real things I've had to encounter and adjust to. "
Founder - Andrew Beltran
Sourced Globally
Made Locally 

What 80% of people are missing in their diets....